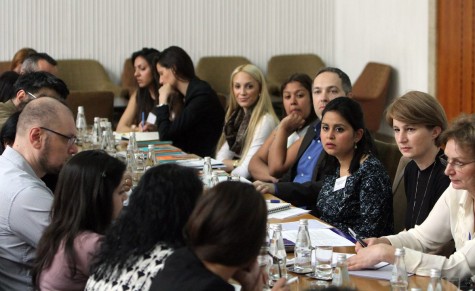 Šef Delegacije Evropske unije u Republici Srbiji, ambasador Majkl Davenport i gradonačelnik Šapca Nebojša Zelenović uručili su danas izbegličkim, interno raseljenim i povratničkim porodicama ključeve od stanova u zgradi za socijalno stanovanje u Šapcu, čiju je izgradnju i opremanje finansirala Evropska unija (EU) sa 720.000 evra. Oni su posetili i porodice Jovanović i Stojićević, kojima je Evropska unija pomogla u obnovi od posledica poplava.
Objekat za socijalno stanovanje u zaštićenim uslovima izgrađen je u okviru projekta "Podrška poboljšanju uslova života prisilnih migranata u Srbiji i zatvaranje kolektivnih centara" za 29 porodica iz kolektivnog centra Varna i sedam socijalno ugroženih porodica iz Šapca. Projekat u okviru kog će do juna u Šapcu biti izgrađeno još 17 montažnih kuća za istu populaciju, a koji je sprovela organizacija "Hausing Centar" uz učešće Grada Šapca, Komesarijata za izbeglice i migracije i Centra za socijalni rad, ima za cilj da pospeši društveno uključivanje ovih porodica i da pomogne zatvaranje kolektivnog centra Varna u Šapcu.
"Grad Šabac nastoji da svim građanima obezbedi pristojan život, a uz podršku Evropske unije sada 36 porodica dobija krov nad glavom. To je deo zajedničkih napora da pomognemo onima kojima je to najpotrebnije", rekao je gradonačelnik Šapca Nebojša Zelenović.
"Useljenjem u nove stanove, ove porodice su posle mnogo teških trenutaka dobile priliku da žive dostojanstveno. Ponosan sam što je Evropska unija deo značajnog projekta za stambeno zbrinjavanje velikog broja ljudi iz kolektivnih centara", rekao je ambasador Evropske unije u Srbiji Majkl Davenport.
"Dugujemo Evropskoj uniji veliku zahvalnost za svu pomoć Srbiji u rešavanju ovog problema, a uz njenu pomoć nameravamo da do kraja godine zatvorimo sve kolektivne centre u Srbiji", rekao je komesar za izbeglice i migracije Republike Srbije Vladimir Cucić.
Ambasador EU i gradonačelnik Šapca obišli su i kuću Milete Jovanovića u selu Gornja Vranjska, koja će biti obnovljena sredstvima Evropske unije kroz drugu fazu Programa pomoći EU poplavljenim područjima u Srbiji, a potom su posetili porodicu Stojićević, koja je dobila plastenik za uzgoj povrća. Evropska unija do sad je u Šapcu pomogla obnovu 27 domaćinstava, izgradnju jedne kuće, sanaciju oštećenja u četiri škole i podržala 1.700 poljoprivrednika.
"Porodice u Šapcu, među kojima je veliki broj poljoprivrednih domaćinstava, pretrpele su veliku štetu tokom poplava 2014. godine. Ovo je deo zajedničkih napora, koji će biti nastavljeni i kroz sprovođenje preventivnih mera da se efikasnije spreče katastrofalne posledice poplava u budućnosti", rekao je ambasador EU Majkl Davenport.
Nakon poplava u maju 2014, Evropska unija obezbedila je oko 1,8 miliona evra pomoći Šapcu za obnovu od posledica poplava kroz fondove IPA 2012, IPA 2014 i Fond solidarnosti.