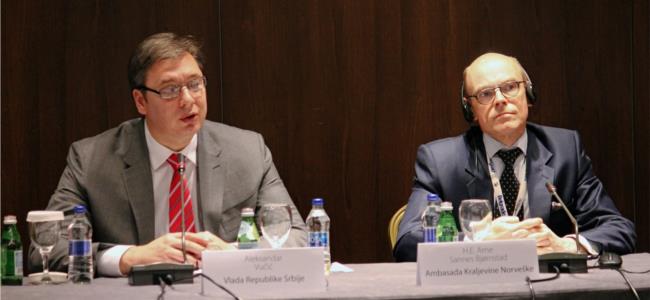 31.03.2016 //
Serbia has shown humanity in dealing with the refugee crisis and the current calm period should be used for improving standards and laws on asylum and foreigners, a conference on migration heard.

More than 100 representatives of state institutions in charge of migration and asylum and international and domestic civil society organisations gathered in Metropol hotel in Belgrade on March 30 for conference entitled "Asylum and migration system: Refugee crisis and reform processes."
Opening the conference, Serbian PM, Aleksandar Vucic said that Serbia will do everything that could be part of a comprehensive solution for the crisis. "If no common European solution is found, we will behave humanely and respect the principles of solidarity," said Vucic.
The PM went on to say that the refugee crisis has currently only been postponed, not solved, and that in the future the governments should work  "on other mechanisms to create societies that will have more tolerance because only societies that are ready for inclusion can survive."
Arne Sannes Bjornstad, Norwegian ambassador in Belgrade, said that Serbia had shown a high level of humanity and commitment to European values in dealing with the refugee crisis. "We have also seen good cooperation between NGOs and the government in dealing with the challenge," the ambassador added.
As many as 651,000 migrants had entered Serbia in 2015, and 100,000 more since the beginning of the current year. They were all registered and provided accommodation, healthcare services and protection.
According to Hans Schodder, representative of UNHCR in Serbia, Serbia has set a positive example of how to approach the refugee crisis. Since the Balkan route has been closed as of March 8, the conference participants agreed that this calm period should be used to improve the laws on asylum and foreigners, as well as adapt standards.
The conference was organised by Group 484 in partnership with the Belgrade Center for Human Rights and the Belgrade Center for Security Policy marking the end of the three-year long project. The Embassy has been supporting Group 484 since 2012. In December 2015, the Embassy entrusted Group 484 with approx. 3.5 million NOK to support refugee-related projects by NGOs in Serbia and Macedonia.
This project aims to support national and local organisations to increase their efforts in order to improve the quality of assistance and develop a wider scope of assistance and protection activities in the two Balkan countries.
This is one out of 11 agreements Norway signed last year with international and local organisations assisting refugees and migrants in Macedonia and Serbia on their way to other European countries.