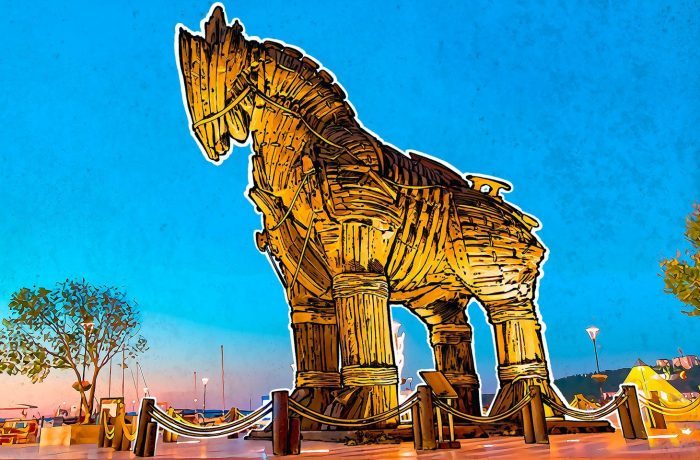 U novembru 2019. godine, tehnologije kompanije Kaspersky otkrile su novi malver koji se fokusira na diplomatska tela u Evropi, pri čemu širenje zaraze otpočinje putem lažnih prijava za vizu. Dalja analiza ukazuje da ovaj spajver koristi istu bazu koda kao i zloglasni malver COMPFun.
Spajver se fokusira na širenje po uređajima žrtve, kako bi prikupio i preneo podatke akteru. On je široko korišćen među raznim akterima naprednih upornih pretnji i njegova opasnost je srazmerna odabranoj žrtvi: bilo da se radi o vladi ili ključnim segmentima infrastrukture, prikupljene informacije mogu biti od velikog značaja za operatore malvera i mogu proizvesti mnoge promene za pogođenu oblast delovanja.
Otkriveni malver ima velike sličnosti u kodu sa malverom COMPFun, prvi put prijavljenim 2014. godine. U 2019. godini, industrija se već susrela sa njegovim naslednikom, malverom Reductor. Funkcije novog Trojanca uključuju sposobnost nabavljanja geolokacije mete, prikupljanje podataka o domaćinu i mreži, keylogging i skrinšotovanje.
Prema stručnjacima kompanije Kaspersky, radi se o potpuno razvijenom Trojancu koji je takođe sposoban za širenje na prenosivim uređajima. U prvoj fazi droper, koji se preuzima sa deljene lokalne mreže, sadrži naziv fajla povezan sa postupkom prijave za vizu, koji odgovara targetiranim diplomatskim entitetima. Legitimna prijava je šifrovana unutar dropera, zajedno sa 32- i 64-bitnim malverom sledeće faze.
Na osnovu viktimologije, kompanija Kaspersky originalni COMPFun malver dovodi u vezu sa Turla APT sa pouzdanošću srednjeg do niskog nivoa.
"Operatori malvera su zadržali svoj fokus na diplomatskim entitetima i prijavama vezanim za vizu – skladištenim u direktorijumu koji se deli na lokalnoj mreži – jer im je početni vektor zaraze išao u prilog. Kombinacija personalizovanog pristupa svojim metama i sposobnosti da osmisle i sprovedu svoje ideje, developere koji stoje iza malvera COMPFun nesumnjivo čini snažnim ofanzivnim timom," izjavio je Kurt Baumgartner (Kurt Baumgartner), glavni bezbednosni istraživač u kompaniji Kaspersky.
Kako bi organizacije bile zaštićene od pretnji kao što je COMPFun, kompanija Kaspersky predlaže sledeće mere:
Sprovodite redovne bezbednosne kontrole IT infrastrukture organizacije.
Koristite provereno rešenje za bezbednost krajnje tačke, kao što je Kaspersky Endpoint Security for Business sa zaštitom od pretnji po fajlove, i uvek ga ažurirajte kako bi mogao da detektuje najnovije tipove malvera.
Za detektovanje na nivou krajnje tačke, istraživanje i blagovremeno saniranje incidenata, implementirajte EDR rešenja, kao što je Kaspersky Endpoint Detection and Response.
Pored primene neophodne endpoint zaštite, implementirajte korporativno bezbednosno rešenje, kao što je Kaspersky Anti Targeted Attack Platform, koje detektuje napredne pretnje na nivou mreže u ranoj fazi.
Svom timu bezbednosno-operativnog centra obezbedite pristup najnovijim Informacijama o pretnjama, kako bi bili u toku sa najnovijim i tek dolazećim alatima, tehnikama i taktikama koje koriste akteri pretnji i sajber kriminalci.
The post Novi Trojanac za špijunažu targetira diplomatske entitete u Evropi putem lažne prijave za vizu appeared first on BIDD.