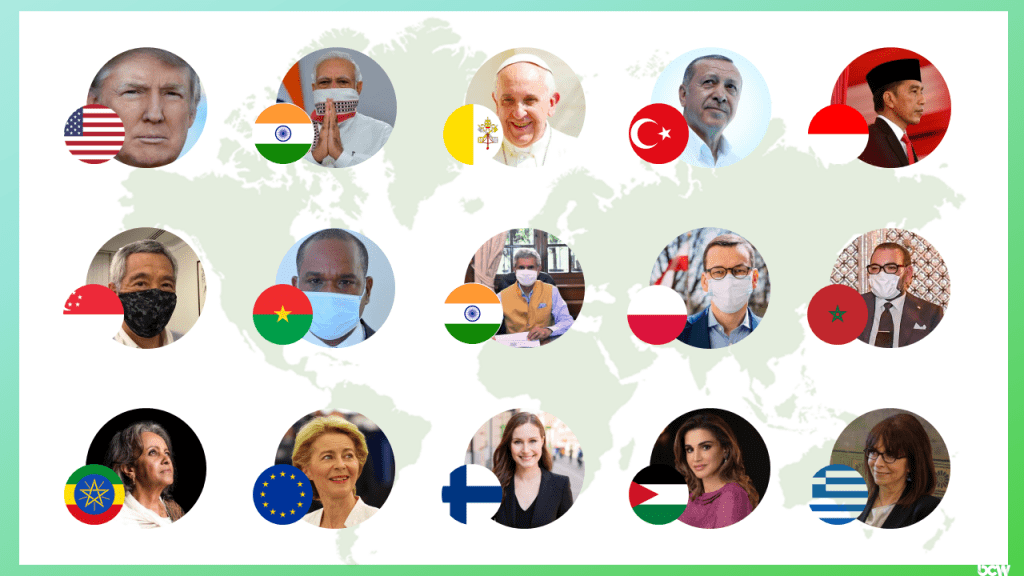 Over the past four months the world as we know it has changed beyond recognition.
COVID-19 has thoroughly upended diplomacy, a profession which involves a fair amount of travel, physical meetings and in-person interactions. The traditional work of world leaders and diplomats has come to a sudden stop as travel restrictions, border closures and shelter-in-place orders have scuppered in-person diplomatic activity.
As the novel coronavirus spread globally, leaders hunkered down at home, such as Canadian Prime Minister Justin Trudeau who went into self-isolation after his wife tested positive for COVID-19. "I'll continue to work from home and conduct meetings via video & teleconference," he tweeted.
No more handshakes, hugs or accolades. No more physical meetings, bilateral summits or multi-lateral gatherings. World leaders and diplomats had to adapt to working from home and have been thrust into virtual meetings.
Diplomacy became truly digital. Within days most diplomatic activity moved online with leaders facing each other off via their respective computer screens. Bilateral and multilateral meetings are now held via telephone or videoconferencing apps, despite having had some teething problems of open microphones and slow internet connections.
The traditional family pictures of multilateral meetings, such as the G7, G20 and the ASEAN summits, have been replaced by a mosaic of screens with leaders sitting in front of their respective flags.
World leaders were quick to use Twitter to communicate and explain lockdown rules, often using the Twitter covers to encourage their followers to #StayHome, #StayAlert and #SaveLives. Many shared guidance on strict hygiene protocols and demonstrated correct handwashing and observing social distancing rules.
The verdict is out whether the diplomatic distancing measures have exacerbated 'national distancing' as former UK Ambassador Tom Fletcher argued or whether leaders have actually come closer together through direct and intimate video chats.
The Israeli Foreign Ministry used the lockdown to tweet beyond its traditional audience, reaching millennials and Gen Z Twitter users. "The #CoronaVirus had a dramatic impact on the role of #DigitalDiplomacy, which is now more important than ever before," the Foreign Ministry tweeted. "Without physical spaces, many use #socialmedia to "socialize" and we're taking advantage of that with engaging & relevant content that resonates with global audiences."
The coronavirus has been a key catalyst for the digitalisation of diplomacy. Leaders who only half-heartedly embraced digital platforms are now actively chatting via Google Meet, Skype and Zoom calls and engaging their followers via Periscope. Even Pope Francis joined a Skype interview oddly staring down on his laptop.
Despite the timid resumption of in-person meetings between masked foreign ministers, there is little chance that bilateral and multi-lateral will ever come back to normal. Many large-scale diplomatic events such as the United Nations General Assembly in late September 2020 and the Annual Meeting of the World Economic Forum in January 2021 have already been down-scaled with large portions of the debate happening online rather than in-person.
Speaking online without a live audience is a challenge for many world leaders but the chance to pre-record statements offers new opportunities for the leaders' messages to be heard and seen beyond the meeting room by a global online audience.
The BCW (Burson Cohn & Wolfe) Twiplomacy study 2020 focuses on how world leaders have tweeted during the coronavirus pandemic and how Twitter has tried to keep the chatter clean from disinformation.
Read the full report at Twiplomacy.com
Twiplomacy 2020 — How World Leaders Tweeted the Coronavirus was originally published in Digital Diplomacy on Medium, where people are continuing the conversation by highlighting and responding to this story.
The post Twiplomacy 2020 — How World Leaders Tweeted the Coronavirus appeared first on BIDD.
Original Article