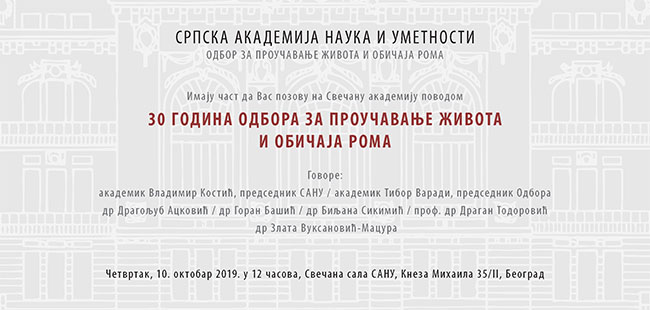 30thANNIVERSARY OF SASA BOARD FOR THE STUDY OF LIFE AND CUSTOMS OF THE ROMA
On the occasion of the 30th anniversary of the SASA Board for the Study of Life and Customs of the Roma, a ceremonial gathering will be organized at the SASA Grand Hall, on 10 October, at 12 o'clock.
Academician Vladimir S. Kostić, SASA President and Academician Tibor Varadi will address the audience, followed by the Board members Dragoljub Acković, PhD, Goran Bašić, PhD, Biljana Sikimić, PhD, Professor Dragan Todorović and Zlata Vuksanović-Macura, PhD who will talk about the Board's work, achievements and its impact.
The Commission, now the Board, for the Study of Life and Customs of the Roma was founded in 1989, by the Department of Social Sciences with the support of the Department of Historical Sciences and Department of Fine Arts and Music.
The idea of establishing a scientific body dedicated to the study of lives and customs of the Roma needed time to mature, but it is evident that it was founded out of the obvious need for such research.
The situation and circumstances of the Board's establishment, its development and work, obstacles and challenges it faced, as well as activities and results achieved so far, will be discussed at the gathering.
The significance of the Board is reflected both in the development of the research on the Roma and in the improvement of public policies related to equality rights, as well as in the change of the social awareness of the Roma. Numerous lectures and conferences organized by the Board, and editions it has published, have helped to replace prejudices and patterns with reality recognition and understanding. The results demonstrate that there are multiple reasons for the Board to continue addressing issues relevant to the position and life of the Roma fellows.