The Ambassador of Belgium to Serbia, H.E. Koenraad Adam, hosted a reception in honour of the national holiday on July 21, the Day of the Statehood of Belgium. Belgium celebrates July 21st as its national holiday, in memory of the same date in 1831, when the independent Belgian state was established. On that day, Leopold of Saxe-Coburg swore allegiance to the new Belgian Constitution and became King Leopold I of Belgium. The reception at the Belgian Embassy in Belgrade was attended by diplomatic representatives in Serbia and numerous public, political and cultural figures. Continue reading The Embassy of Belgium in Belgrade celebrates a national holiday at Diplomacy&Commerce.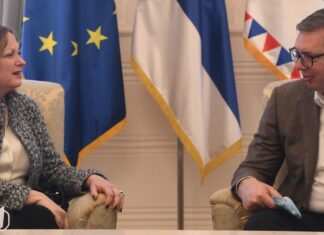 President of the Republic of Serbia Aleksandar Vučić met today for a farewell visit from the Regional Director of the European Bank for Reconstruction...
Амбасадор Републике Србије у Анкари Зоран Марковић изјавио је да међу повређенима и настрадалима од пожара на југу Турске нема спрских држављана, као и то да до сада није било ниједног позива од стране наших туриста упућених Амбасади или Конзулату у Истанбулу. Марковић је истакао да су запослени у Амбасади у сталном контакту са свим нашим агенцијама које шаљу туристе у ове области и рекао да ће нашим туристима бити пружена помоћ уколико то буде потребно. Амбасадор Марковић нагласио је да су наше агенције предузеле све како би туристи, који су привремено измештени, били збринути на одговарајући начин. Амбасадор је указао да је пожар у анаталијској области под контролом и да нема опасности од даљег ширења.