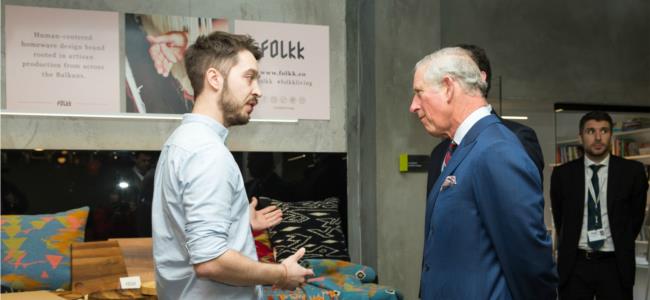 23.03.2016 //
FOLKK, a "homeware" brand designed by our grantee Nova Iskra, started only two weeks ago and has already found its new home at the royal residence in London.

During his official visit to Serbia last week, the Prince of Wales did not miss to visit the Nova Iskra Entrepreneurship Hub, a centre that helps foster cooperation between small businesses in Belgrade.
This is where he got introduced to projects and initiatives that aim to develop entrepreneurial skills, strengthening social enterprises and promotion of vocational education in Serbia.
The Prince was also among the first to see products by FOLKK, a recently launched "homeware" brand that has been developed over the past two years with support of the Embassy. "We had a pleasure to give some of our first FOLKK products to His Royal Highness. The Prince got a hand woven trail Resa Aisha, two-sided multi-functional plate Q Steamed Walnut and a triform modular serving board Tapa Pear according to his expressed desire," says Aleksandra Savanovic, Nova Iskra project coordinator.
This comes only a week after the official launch of the brand on social media and the sale of 27 products in their online store.
Folkk is a human-centered, design-driven brand focused on artisan making of utility products. They build relationships and collaborations between emerging design talent and the masters of traditional crafts across Serbia and the Balkans. Folkk products are unique, one-of-a-kind objects crafted from the homegrown materials. There are two product lines, one dedicated to hand weaving and other dedicated to wood products.
Today, they are focused on developing a network of distributors abroad, as well as on promotion aimed at foreign markets. "We are also negotiating with several designed furniture stores in Belgrade and in the region in connection with the sale of FOLKK products," says Aleksandra. Before the summer, they hope to start working on new product development in order to be ready for the next selling season and participate at trade fairs during 2017.