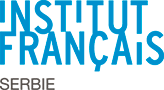 En attendant le nouveau cycle de la Caravane du film français, l'Institut français vous propose, en coopération avec le Centre culturel Svilara, une série de projections intitulée »Best of FFK ». Une belle opportunité pour se rappeler des meilleurs films présentés dans le cadre de la Caravane du Film français ou bien de découvrir les films que vous n'avez pas vu auparavant!
Venez donc nombreux pour la première projection du cycle BEST OF FFK! Entrée libre, VO avec les sous-titres en serbe!
Tamara (FRA, 2016, 1h40min)
Réalisateur : Alexandre Castagnetti
Acteurs : Héloïse Martin, Sylvie Testaud, Cyril Gueï, Rayane Bensetti…
Tamara, 15 ans, est particulièrement complexée par ses rondeurs. Pour s'affranchir de sa mauvaise étiquette au lycée, elle décide de prendre les choses en main! Elle fait ansi le pari avec sa meilleure amie de sortir avec le premier garçon qui passera la porte de la classe. L'élu est Diego, un magnifique jeune homme, et Tamara voit ainsi ses chances de réussir son pari s'éloigner…
La Caravane du cinéma français est un programme qui a pour but le rayonnement du cinéma français à travers toute la Serbie, en partenariat avec les centres culturels municipaux.
En 2020, la Caravane du cinéma français et soutenue par les produits Île de France et la compagnie Mlekoprodukt.
The post Best of FFK: « Tamara » appeared first on Institut français de Serbie.