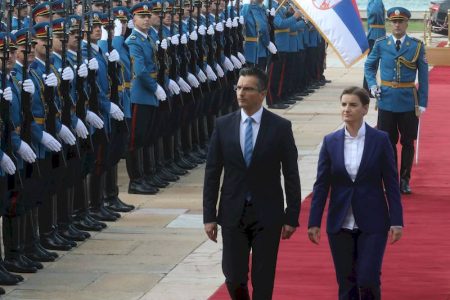 Serbia and Slovenia maintain good political and economic relations, Serbian PM Ana Brnabić said Tuesday, thanking Slovenia for its continued support for Serbia's European integrations.
"We have never faced particular conditions imposed by Slovenia when it comes to opening negotiating chapters, and we have always had great technical support," she told a press conference after meeting with Slovenian counterpart Marjan Šarec.
Serbia and Slovenia do not have many open issues, she said, adding that she had discussed with Šarec a date for a fifth joint session of the Serbian and Slovenian governments.
"I asked the Slovenian PM that we try to have a date by the end of the year, and I hope we will," she said.
She said that holding a business forum had been proposed as well in view of continued growth of economic cooperation.
The Slovenian economy is one of Serbia's most significant economic partners and one of the largest investors, with investments worth over 1 bln euros, she said.
She noted that 1,600 Slovenian companies were operating in Serbia successfully.
The volume of bilateral trade was over 1.6 bln euros last year, she said, expressing the hope it would exceed 2 bln in 2020.
She said she expected to see a growth of Serbian investments in Slovenia, which are currently worth over 300 mln euros, and added that Serbian companies such as Nektar, Comtrade and Delta were operating in Slovenia.
Serbia and Slovenia can achieve a lot together through cooperation in blockchain technology, she also said.