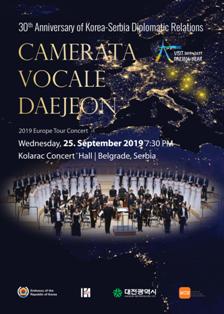 On the occasion of celebrating the 30th anniversary of the establishment of the diplomatic relations between Korea and Serbia, the Embassy of the Republic of Korea has prepared another concert for the Serbian audience, the Camerata Vocale Daejeon Choir Concert
Camerata Vocale Daejeon will perform for the first time in Serbia on Wednesday, September 25 at 7.30 pm in the Ilija M. Kolarac Endowment Hall. On this occasion, the choir will be conducted by Winfried Tol, with pianists Su-Hi Kim, Sung-Jin Park.
Established in 1981, Camerata Vocale Daejeon was soon voted one of the best choirs in Korea, thanks to its exceptional musicality and very creative performance.
The choir achieved outstanding results, with the backbone being the invitation to perform at the Bach International Choral Festival (2005), introducing their national music to the global music stage. Another crucial event for the international success of this choir was the registration in the British & International Music Yearbook.
In 2007, the choir invited maestro Winfried Toll, who is one of the most respected conductors. It was he who began the exciting musical journey by taking the history of Korean choral music to a higher level.
The choir has toured not only in Seoul but also in Asian countries such as Shanghai and Bangkok, solidifying its position as one of the best choirs to represent Korea.
So far, the choir has performed a wide range of repertoire of Baroque music through contemporary works: Fel Haidn's Nelson Mass, F. Martin's Mass for the choir, and J.S. Bach's Christmas Oratory, J. Brahms's Neue Liebeslieder-Valzer, Op.65, etc. He also performed a Baroque-style Messiah HVV 56 GF Handel at a Seoul Special Concert that was thought to have reached a new horizon of choir music.