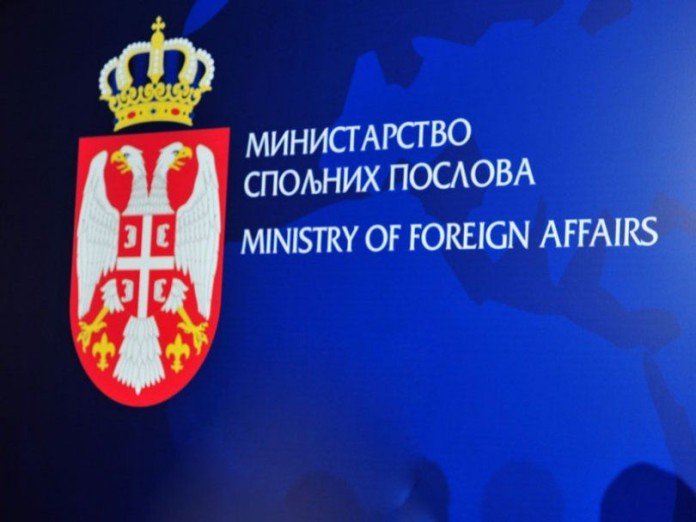 First Deputy Prime Minister and Minister of Foreign Affairs of the Republic of Serbia Ivica Dacic met today with Deputy Prime Minister and Minister of International Relations and Corporation of the Republic of Namibia Netumbo Nandi-Ndaitwah, who is on an official visit to Serbia.
"Serbia wants to restore the level of cooperation with African countries that existed before the break-up of Yugoslavia, since one of the missteps of our foreign policy was oblivion of good relations of the past", underlined Minister Dacic.
Minister Dacic thanked this state for its firm position concerning non-recognition of the unilaterally declared independence of Kosovo, conveying that Serbia would do the same should Namibia be in need of assistance in international fora.
"Namibia is a true friend of ours, whom we should never forget, but respect and support", said the Head of Serbian diplomacy.
Minister Dacic recalled that Serbian companies used to carry out extensive business ventures in Namibia, as well as that hundreds of their military officers were educated here, and also that trade between the two countries last year was more than merely symbolical, amounting to EUR 700,000.
Speaking about the role of SFRY President Josip Broz Tito in helping the struggle for independence of African states, Minister Dacic recalled that establishing Africa Day on the 25th of   May had not been an arbitrary choice, considering that it coincided with the date when Tito's birthday was celebrated in Yugoslavia.
The Foreign Minister of Namibia announced that the two countries would continue their cooperation, established in the past, during a particularly difficult stage in Namibia's history of fighting for freedom.
"Tito was among the first to provide military assistance to the liberation movement in Namibia, as well as training for our military officers", said the Head of Namibian diplomacy, estimating that the kind of reception she was welcomed with reflected the decades-long friendship between the two countries.
Minister Netumbo Nandi-Ndaitwah underlined that she and Minister Dacic agreed to raise the cooperation between the two countries to an even higher level, particularly in the economy.