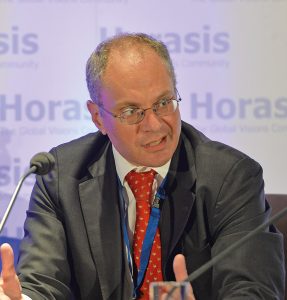 The British-Serbian Chamber of Commerce is delighted that from 11th July 2019 Dr David Landsman OBE is their new Chairman.
Dr Landsman joins the current Board of Directors: Mr Petar Orlić, Ms Jadranka Dervišević Kitarić, Mr Igor Orlić and Ms Mila Korugić Milošević. David Landsman's career spans senior positions in government and business and will add to the already wide-ranging portfolio of skills of the board of directors. His connection to Serbia dates to 1997 when he joined the British Embassy in Belgrade. He subsequently served as Ambassador to Albania and Greece, and Foreign Office Balkans Director. In business, he worked for De La Rue plc and most recently was Executive Director of Tata Limited, the Indian conglomerate's European subsidiary. He now serves on a number of Boards including DocuChain and the UK-India Business Council. He recently launched Agora Envisioning, a design thinking-based strategy consultancy and is a Visiting Fellow of Cambridge Judge Business School.
The BSCC has a long standing relationship with the University of Cambridge, not only via our former Chairman, the late Sir Paul Judge, but also with the Pexim Foundations Cambridge scholars.
Petar Orlic will continue in his role as Deputy Chairman. Petar is an experienced corporate real estate lawyer, a partner in the law firm Watson Farley and Williams who has not only worked extensively with the region, but has also lived in Serbia.
Jadranka Dervišević Kitarić, is the London based Executive Director and has been responsible for the Chamber's operations in the UK. She has assisted public and private sector organisations in real estate and infrastructure projects, and worked alongside multidisciplinary teams including finance, engineering and project management.
Igor Orlić, has been the Chamber treasurer since 2016 and is a member of the Global Pricing Team at Freshfields Bruckhaus Deringer LLP acting as a conduit between the internal and external clients with highly commercially-focused positions involving work in pricing, profitability and strategic planning.
Mila Korugić Milošević is an Associate of Wyn River Limited based in Belgrade, Serbia. Wyn River Limited is a niche advisory firm, which improves the operational and financial performance of mid-market businesses across Eastern Europe, Central Asia and Africa. In 2015, she was appointed to the Supervisory Board of Komercijalna Banka, one of Serbia's largest banks. Ms Korugić Milošević is the Chamber's Belgrade-based Director.
Mr Siniša Krajčinović joined the BSCC earlier this year taking on the role of Executive Director BSCC Serbia. Mr Krajčinović started his career as an athlete and was the President of the Sports Union of Serbia for eight consecutive years and was also the Acting Secretary for Sport and Youth in the Republic of Serbia. He also has extensive experience as a Director in both public and private sector organisations and remains a passionate supporter of young talent in sport and commerce.
We firmly believe that there are abundant opportunities for British and Serbian companies to successfully do business together. Whether UK businesses are attracted by investment opportunities, infrastructure projects or a growing market for high-value products and services, there is plenty to excite them in Serbia. Likewise, the BSCC can also help Serbian companies, from IT to agri-food and tourism, to develop into the UK market.
In his opening remarks to the Chamber, our new Chairman emphasised that the increasing cooperation between Serbia and its neighbours provide grounds for real optimism, as British companies can now look at a regional market of more than 20 million people. As the British Serbian Chamber of Commerce works closely with partners across South East Europe, let us be your first port of call. Please visit www.britserbcham.com