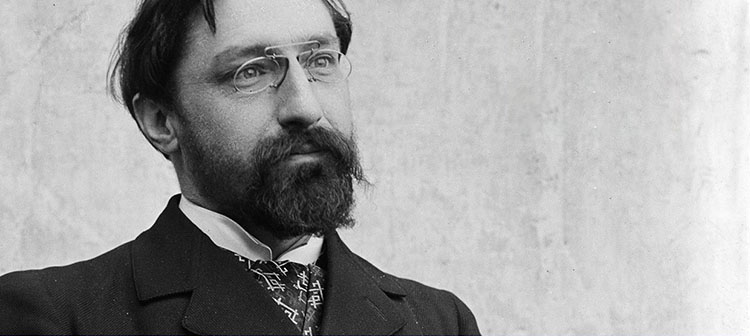 Gabriel Millet and Research of Old Serbian Architecture
On the occasion of the opening ceremony of the exhibition 'Gabriel Millet and Research of Old Serbian Architecture' at the SASA Gallery of Science and Technology, a solemn academy will be held at the SASA Grand Hall, on Tuesday, 3 September, at 6 p.m. Academician Zoran Petrović, director of the SASA Gallery, Academician Vladimir Kostić, president of SASA, Academician Gojko Subotić, Professor Catherine Jolivet-Lévy and the curator of the exhibition Dubravka Preradović, PhD will address the audience.
The exhibition dedicated to the French Byzantinist Gabriel Millet (1867-1953), the author of a pioneer study on Serbian medieval architecture, aims to present and contextualise the significance his researches have had.
Gabriel Millet was dedicated to the research of Serbian medieval painting, as well to the monuments of that period. He was tremendously respected in our surroundings, having been a corresponding member of the Serbian Royal Academy (1920), an honorary member of Matica Srpska (1927), dr.h.c. of the University of Belgrade (1935), and a corresponding member of the Serbian Academy of Sciences (1948).
The exhibition will feature the reconstruction of Millet's research trips around Serbia, Kosovo and Metohija, Macedonia and Montenegro, and their results. A part of Millet's rich legacy, particularly photographs of Serbian monuments kept at the photographic archive bearing his name (Photothèque Gabriel Millet) in the École Pratique des Hautes Études, and in Millet's legacy collection at the College de France in Paris, as well the ones kept at the Legacy of Đurđe Bošković, in the Archeological Institute, will be on display. A part of the exhibition is dedicated to the work of his wife, painter Sophie Millet who produced watercolours of architecture and landscape for her husband's research work. Finally, due attention was also paid to Millet's students and associates, architects Kosta J. Jovanović, Milan Zloković, Đorđe Tabaković, Đurđe Bošković, Aleksandar Deroko, as well as, art historians Mirjana Đorović-Ljubinković and Radivoje Ljubinković.
The exhibition is on display until 16 September.