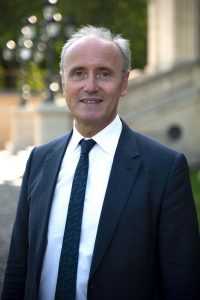 At the ceremony of presentation of the Letter of Credence, President of the Republic of Serbia Aleksandar Vučić wished the Ambassador of the Republic of France Jean-Louis Falconi a welcome and successful diplomatic post in Belgrade aimed at continuation of the successful political dialogue and comprehensive cooperation between the two countries in the aftermath of the historic visit of President Emmanuel Macron, the established strategic partnership and the documents signed.
President Vučić conveyed his greetings to President Macron who – as he added – won a huge affection of the Serbian people and whose strong messages conferred in Kalemegdan are still remembered. He stressed out that considering the reputation of France within the European and global politics, the understanding presented by President Macron during his visit remains to be of utmost importance for Serbia and he also expressed the hope that we will have the active support of France in the future with respect to the European integrations and other significant issues.
Ambassador Falconi said that he will be committed to the development of the Serbian-French relations and added that Serbia and the region returned to the scope of the French interest. He reminded that at the last week's ambassadorial conference President Macron urged that France gets involved again in the developments in the Western Balkans where he mentioned Serbia as a concrete example.
Ambassador Falconi was born on 8 February 1964. He graduated from the College of Economic and Trade Studies, the Institute for Political Studies He completed the National School of Administration (ENA), "Viktor Igo" class, 1991. Ambassador Faconi was decorated with the Knight of the National Order of Merit. He speaks English and German. He was Ambassador, Permanent Representative to the United Nations Office and International Organizations (Vienna), Director for International, Strategic and Technological at the Prime Minister's Office, Director for International, Strategic and Technological, Ambassador, Permanent Representative of France to the Political and Security Committee of the European Union (Brussels).