Planinski vrh Džumulangma nalazi se na krovu sveta, uzdiže se iznad planinskog lanca i ima počasni status "najvišeg planinskog vrha na svetu", kao sveta koordinata bezbrojnih ljudskih snova.
Povodom obeležavanja Dana kineske kulturne i prirodne baštine 2020. godine, Ambasada Narodne Republike Kine u Republici Srbiji vodi Vas u obilazak ,,vrha sveta", kako bi Vam pokazala izvanrednu lepotu Džumulangme.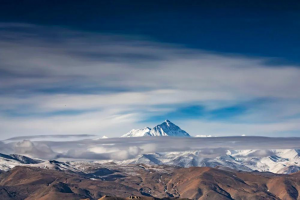 Mesto je na zemlji koje je najbliže nebu, prekriveno plaštom iz dubina drevnog okeana. Na tibetanskom nosi značenje ,,treće boginje", ali pošto je tokom čitave godine prekriveno snegom i vazduh je veoma redak, takođe je i mesto ,,opasno po život".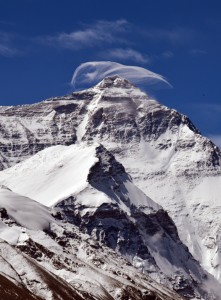 Vrh sveta, planinski vrh Džumulangma
U centru je svetske pažnje, ali večno usamljen. Nalazi se na "krovu sveta", deo je Tibetanskog platoa, najviše tačke na svetu iznad nivoa mora – Himalaja, koji se kao najviši planinski venac nalazi na granici između Kine i Nepala.
On, vrh sveta; on, planinski vrh Džumulangma.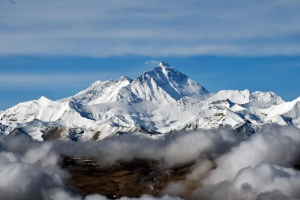 Džumulangma, planina u obliku džinovske piramide, moćna i sa ,,glavom u oblacima". Nadgleda sve lepote sveta pod nebom u potpunoj tišini.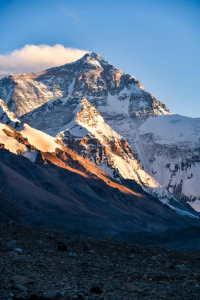 Vazduh je veoma redak ovde, i u poređenju sa prosečnom vrednošću Istočne kineske nizije, sadržaj kiseonika iznosi samo jednu četvrtinu te vrednosti. Prosečna temperatura tokom godine iznosi oko minus trideset, minus četrdeset stepeni Celzijusa. Duva snažan vetar, predeo je prekriven snegom i raznosi se na sve strane, prekrivajući horizont.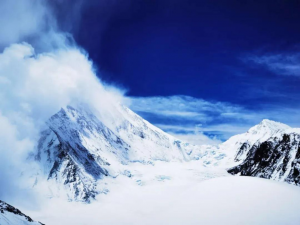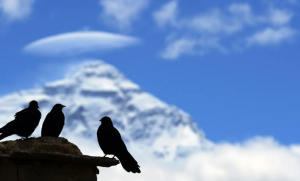 Planinari iz drugih zemalja ga nazivaju ,,vrhom koga ptice ne preleću"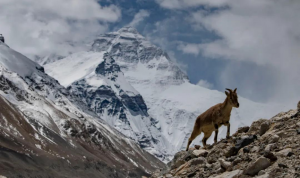 Divne ,,vile" sa ledenog platoa
Na njemu se nalaze glečeri, padine, ledene šume obrasle visokim ledenim kulama, ledene litice koje stoje rame uz rame sa strmoglavim ambisima, pukotine u ledu na tren svetle, na tren mračne, malo nepažnje svakim korakom vodi u zamku, a tu su i nepredvidiva područja ledenih odrona i lavina, sve same opasnosti jedna za drugom…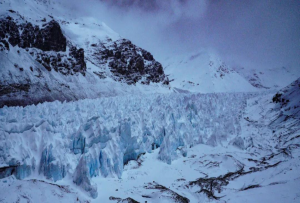 To je možda i jedini način za postojanje okruženja u kome opstaje 40 planinskih vrhova viših od 7000 metara nadmorske visine; to je možda i jedini način da se suočimo sa svim izazovima i izdržimo pritisak stajanja na vrhu sveta.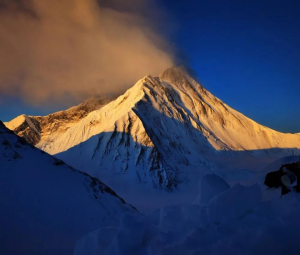 Oblak koji kao zastava koja se vijori prelazi preko vrha Džumulangme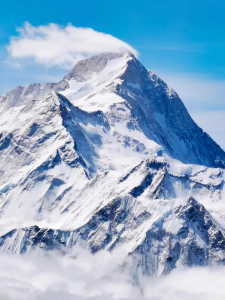 Oštre konture vrha Džumulangme, veličanstven ,,stas"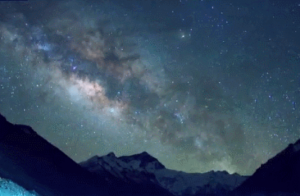 Beskrajni Mlečni put koji se polako razliva iznad svoda Džumulangme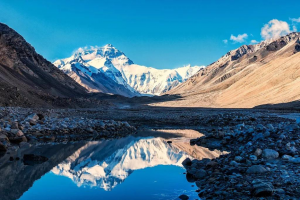 Vrh Džumulangma okružen mirom i tišinom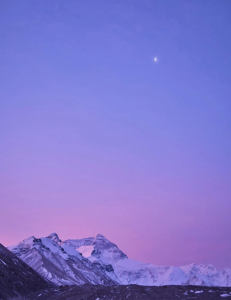 Vrh Džumulangma pod okriljem noći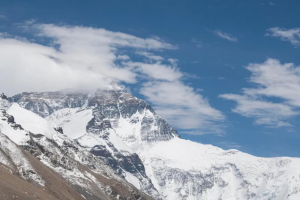 Ono što je lepota koegzistencije veličanstvenosti i izazova,
ono što je nezamenjivo,
Vrh Džumulangma.
Postojani mističan vrh Džumulangma
(Sve slike iz članka dostavila je novinska agencija Sinhua)