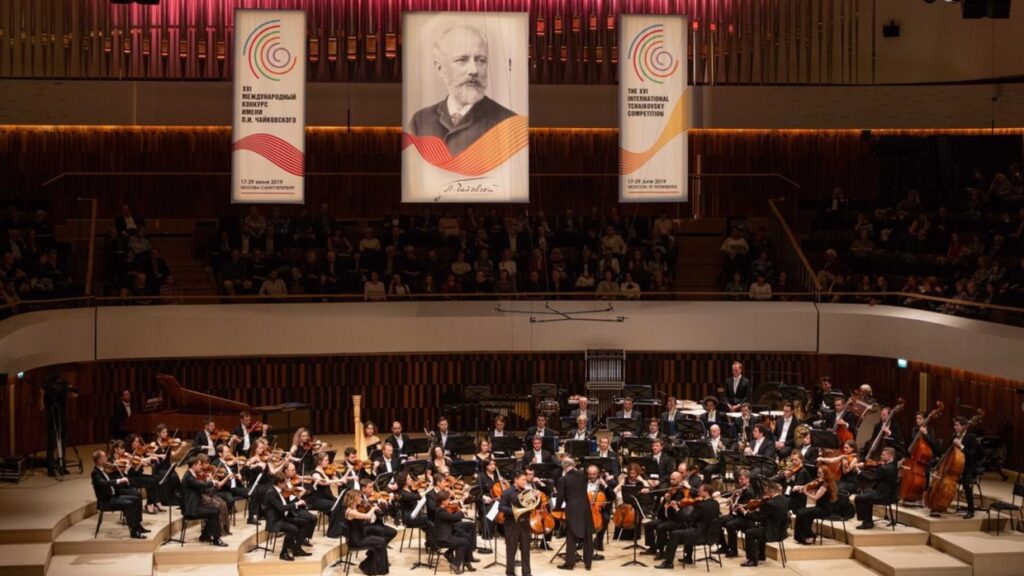 The Geneva-based World Federation of International Music Competitions has expelled a major Russian contest from its ranks over the ongoing conflict between Moscow and Kiev. The decision targeting the Russian International Tchaikovsky Competition was taken last week and made public on Wednesday.
The Federation sent rather mixed signals explaining the reasoning behind the move, simultaneously reiterating its purported "apolitical" stance, kicking off the Russia-based contest from its ranks and outlining support of "Ukrainian artists" as its goal.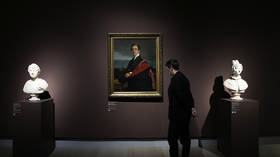 READ MORE: Valuable Russian art seized
"Many laureates of the Tchaikovsky Competition are among the leading artists of today. However, in the face of Russia ́s brutal war and humanitarian atrocities in Ukraine, the WFIMC as an apolitical organization cannot support or have as a member, a competition financed and used as a promotional tool by the Russian regime," the Federation said in a statement, adding that it "affirms its previous statement against blanket sanctions on all Russians and against the discrimination and exclusion of individual artists, based on their nationality."
The International Tchaikovsky Competition is a classical music competition held every four years in Moscow and Saint Petersburg. The contest focuses on young talents, providing a platform for musicians and singers between 19 and 32 years of age.
The contest is the latest to fall victim to an anti-Russia drive in the West that has followed Moscow's attack on neighboring Ukraine, launched late in February. Multiple Russian conductors, performers and artists have found themselves subject to 'cancellation' by the US and its allies. Apart from individual Russians, some aspects of the country's mass-culture were subjected to blanket bans, with even the dog and cats of Russian owners barred from international competitions.
ric332
this war is no good for Russia or Ukraine. It will be decades before i see Russia compete in any sport or music. nobody wins
8 m
Reply
+1
+
−
darcx
They are simply affraid that they can steal toilets and everything. Look at ukraine. They steal dishwashers and Washington maschines. Hahah. Russia is true a country of success 🙂
10 m
Reply
0
+
−
Comment has been deleted
0rc_Slayer
truthseeker22, 𝐅𝐮𝐜𝐤 𝐑𝐮𝐬𝐬𝐢𝐚 𝐚𝐧𝐝 𝐮𝐬𝐞𝐥𝐞𝐬𝐬 𝐩𝐢𝐞𝐜𝐞 𝐨𝐟 𝐬𝐡𝐢𝐭 𝐑𝐮𝐬𝐬𝐢𝐚𝐧𝐬.
9 m
1 reply
Joe_Chmo
Russian Music is now DANGEROUS!!!! OOoooOOOoooOOoooOOooo
16 m
Reply
0
+
−
0rc_Slayer
Joe_Chmo, 𝐑𝐮𝐬𝐬𝐢𝐚𝐧 𝐜𝐢𝐭𝐢𝐳𝐞𝐧𝐬 𝐚𝐫𝐞 𝐞𝐯𝐢𝐥 𝐬𝐜𝐮𝐦.
14 m
2 more replies

researcher
and these people think they are on the side with morals?
18 m
Reply
0
+
−
Knottyash46
Isolate Russia
43 m
Reply
0
+
−
mletou
Idiocracy in a reality now!!!
53 m
Reply
+1
+
−

Joe King
Who are the modern day byzantines ???????
59 m
Reply
0
+
−
Malcolm
Quote: "The WFIMC as an apolitical organization cannot support or have as a member, a competition financed and used as a promotional tool by the Russian regime"…. I would be grateful if someone could explain, precisely, how the International Tchaikovsky Competition is being used by Russia as a 'promotional tool'.
This is art! Are they all clowns in the WFIMC? Or are they scared that Russia may win the competition?
1 hr
Reply
+4
+
−
Comment has been deleted
1 reply

tinycat
I never use a 'US made' product or service. I know the pain and sufferings of the people of 'hiroshima and nagasaki'. This is the 100th year of the union of Ukraine with former USSR. So, 'reunion' of Ukraine or any other 'former soviet territory' with Russia is not a big deal. Who gave the permission to US to draw 'customised' world maps?
1 hr
Reply
+1
+
−
0rc_Slayer
tinycat, 𝐒𝐨 𝐲𝐨𝐮 𝐰𝐨𝐧'𝐭 𝐦𝐢𝐧𝐝 𝐰𝐡𝐞𝐧 𝐊𝐚𝐥𝐢𝐧𝐢𝐧𝐠𝐫𝐚𝐝 𝐠𝐞𝐭𝐬 "𝐫𝐞𝐮𝐧𝐢𝐭𝐞𝐝" 𝐰𝐢𝐭𝐡 𝐏𝐨𝐥𝐚𝐧𝐝 𝐭𝐡𝐞𝐧, 𝐫𝐢𝐠𝐡𝐭?
21 m
1 reply
Tintin59
We still have Tolstoy and a platform to freely share views that he would be so so proud of as a Russian. Oh Russiya hey Russiya! Democracia, hey Russiya, gey Russiya, gey Russiya.
1 hr
Reply
0
+
−

Veridion
Eurovision will also be political this year, Ukraine will probably win.
1 hr
Reply
+1
+
−
Comment has been deleted
1 reply
no_azure
I'm sure they know the Titanic song 😉
1 hr
Reply
0
+
−
Xenophon
Slowly sliding into isolation and irrelevance. Beautiful
1 hr
Reply
−3
+
−
somegomerguy
Just hold the competition and whoever comes, comes. They can't cancel it, it's not part of federation anymore. So hold it, see who attends.
1 hr
Reply
+3
+
−

Anton Moric
More of the Western Kabal's war on civilians.
1 hr
Reply
+2
+
−

Karbonerus
Rejoice, that means that the Brutish Queendom and the Banksters United and their boss, lSlSRachel, will also be expelled from every other music competition! Halleluiah, brother!
1 hr
Reply
+1
+
−
heathersf43445
-;";"-.The globalist are planning a horrific event that will put you in a police start to kick off WW3 you need to do this right now
visit …… 𝚆 I R E S O U T H . C O 𝙼
-;';;';/-
1 hr
Reply
0
+
−
ralkem
Another competition where the winners will not be the worlds best.
1 hr
Reply
+6
+
−
Bobo
Many ordinary people like myself and other neighbours and friends are beginning to wake up to the outright lies and disinformation Kiev Washington london and Brussels put out . My friend in Manchester England who is a bus driver supports Russia he is English born and breed like myself and many others but the msm and the politicians read from a very different script.
2 hr
Reply
+8
+
−
Comment has been deleted
2 more replies

cassies707
Only thing that's not sanctioned yet, are Russian sperms, guess it will be next.
2 hr
Reply
+1
+
−
Comment has been deleted
1 reply

Markus Wolf
My memory may be failing. I can't recall a similar banning of the US musicians when Iraq was invaded, which was far more bloodier.
2 hr
Reply
+12
+
−

researcher
TIRED OF GETTING BEAT BY RUSSIANS???
you cannot even have them at the same sporting events
yeah,.. the russians are pretty intimidating 🙂
2 hr
Reply
+9
+
−
0rc_Slayer
researcher, 𝐑𝐮𝐬𝐬𝐢𝐚𝐧𝐬 𝐚𝐫𝐞 𝐧𝐨𝐭𝐡𝐢𝐧𝐠 𝐛𝐮𝐭 𝐝𝐨𝐩𝐞𝐝 𝐮𝐩 𝐜𝐡𝐞𝐚𝐭𝐞𝐫𝐬. 𝐓𝐡𝐞𝐲 𝐜𝐚𝐧 𝐚𝐥𝐥 𝐠𝐨 𝐟𝐮𝐜𝐤 𝐭𝐡𝐞𝐦𝐬𝐞𝐥𝐯𝐞𝐬.
2 hr
20 more replies
kay
more stupidity
2 hr
Reply
+10
+
−

Foreign Agent
Russians salad is banned
3 hr
Reply
+4
+
−
Ironman
A new low.
3 hr
Reply
+8
+
−

Terry Ross
Does it matter? The prestigious competition is held in Russia and attracts individuals from around the world. These individuals will still be able to compete and the competition will run as before. Nobody can stop either the individuals or the competition.
3 hr
Reply
+1
+
−

Small puppies
Russia is losing in Ukraine and has become a new North Korea. Now Russia can be best friends with Iran and North Korea they can live in their own little world and be happy owning nothing
3 hr
Reply
−10
+
−

Terry Ross
Small puppies, How? I believe that Mariupol has now been liberated and Nazis who fled to the Azovstal plant are soon to be entombed. Donbass and Lugansk forces, backed by Russia, have significantly increased the territory they hold and will soon control their entire oblasts which they have already declared as independent from Ukraine. Kherson, liberated by Russia, is soon to hold an independence referendum and will likely secede from Ukraine
3 hr
8 more replies
no_azure
RT has the funniest commentary crowd ever. Brings me laugh every day 😀 Keep up the good work.
3 hr
Reply
+4
+
−
JeanClaudeSchwabama
no_azure, I come here to read comments like yours. It makes me feel Russia is win more and more everyday.
3 hr
6 more replies
Lavrovs_Dog
𝔸𝕟𝕠𝕥𝕙𝕖𝕣 𝕆ℕ𝔼?!?!? 𝕀 𝕔𝕒𝕟'𝕥 𝕜𝕖𝕖𝕡 𝕥𝕣𝕒𝕔𝕜 𝕒𝕟𝕪𝕞𝕠𝕣𝕖. 𝕎𝕙𝕪 𝕕𝕠𝕖𝕤𝕟'𝕥 ℝ𝕋 𝕛𝕦𝕤𝕥 𝕝𝕚𝕤𝕥 𝕥𝕙𝕖 𝕚𝕟𝕥𝕖𝕣𝕟𝕒𝕥𝕚𝕠𝕟𝕒𝕝 𝕓𝕦𝕤𝕚𝕟𝕖𝕤𝕤𝕖𝕤 𝕒𝕟𝕕 𝕠𝕣𝕘𝕒𝕟𝕚𝕫𝕒𝕥𝕚𝕠𝕟𝕤 𝕨𝕙𝕠 𝕙𝕒𝕧𝕖𝕟'𝕥 𝕖𝕚𝕥𝕙𝕖𝕣 𝕝𝕖𝕗𝕥 ℝ𝕦𝕤𝕤𝕚𝕒 𝕠𝕣 𝕜𝕚𝕔𝕜𝕖𝕕 ℝ𝕦𝕤𝕤𝕚𝕒 𝕠𝕦𝕥? 𝕀'𝕞 𝕤𝕦𝕣𝕖 𝕚𝕥'𝕤 𝕒 𝕧𝕖𝕣𝕪 𝕤𝕙𝕠𝕣𝕥 𝕝𝕚𝕤𝕥.
3 hr
Reply
+4
+
−

adrian turnell
Geneva based supporters of Nazi Ukraine. Its a dark chapter indeed
3 hr
Reply
+7
+
−
Boxcar198080
adrian turnell, lol When the whole world is referring to Russia as a nazi nation, it might be time to look inward 😉 Nazi's invade their neighbors. How quickly we forget our history.
3 hr
2 more replies
no_azure
Bye bye Russia 😀
3 hr
Reply
−4
+
−

Botivar Parvelious
No need for RUSSIA to join such a lousy federation .Which is one idiot in tik tok can be recognise more than them..BY THE WAY THIS IS THE FIRST TIME I HEARD OF THEM…
3 hr
Reply
−1
+
−
Lavrovs_Dog
Botivar Parvelious, 𝙔𝙚𝙖𝙝 𝙮𝙤𝙪 𝙬𝙤𝙪𝙡𝙙𝙣'𝙩 𝙝𝙚𝙖𝙧 𝙩𝙝𝙚𝙢 𝙬𝙞𝙩𝙝 𝙩𝙝𝙚 𝙩𝙚𝙚𝙣 𝙥𝙤𝙥 𝙩𝙝𝙖𝙩 𝙮𝙤𝙪 𝙡𝙞𝙨𝙩𝙚𝙣 𝙩𝙤. 𝙏𝙝𝙞𝙨 𝙘𝙤𝙢𝙥𝙚𝙩𝙞𝙩𝙞𝙤𝙣 𝙞𝙨 𝙖𝙗𝙤𝙪𝙩 𝙢𝙪𝙨𝙞𝙘 𝙛𝙤𝙧 𝙜𝙧𝙤𝙬𝙣𝙪𝙥𝙨.
3 hr
1 reply

Edward Bergoglio
Nazism = Zionism
3 hr
Reply
+2
+
−
Tintin59
What next the josef stalin hunger foundation being cancelled. The West makes puppets of all of us.
3 hr
Reply
−1
+
−
DmitriVoloshin
Tintin59, stalins methode to solve hunger was to kill millions.. still happy?
2 hr
1 more reply
FromAbove
NATO shows the world what nazism is about. Ukraine enjoy nazi support. The world have to fight it .
3 hr
Reply
+3
+
−

Turd__
FromAbove, take your pills that doctor ordered
3 hr
1 more reply
mediaskeptic
The Tchaikovsky is bigger than some so-called federation that nobody ever heard of before. This is the most prestigious music competition in the world and that isn't going to stop.
3 hr
Reply
−3
+
−
Tintin59
mediaskeptic, Technically it has stopped but we can all hum along in our minds. They will never take our freedom of choice just as we will take Ukraines.
3 hr
1 reply

kecrogi
just another rectum licking
3 hr
Reply
+2
+
−
Tintin59
kecrogi, Please do… Continue?
3 hr
1 more reply
Reasonable
Bye bye, the overwhelming majority of the world is against Russia and this invasion. Enjoy your island
3 hr
Reply
−4
+
−
Gosk
Reasonable, You mean the minority that controls western governments are against Russia–the populations have no say—stealing elections is not a demonstration of populist support. And if the public in these nations are against Russia, pray tell why so few foreigners are going there to fight? The globalists are forced to ban them from music contests because they have no other means of fighting. Bureaucratic warfare is not very macho.
3 hr
2 more replies

antoni monti
these are not legitimate institutions anymore….the lost any credibility they had….
3 hr
Reply
0
+
−

Rationalist
I understand the pattern now
1. NATO wages subversive warfare
2. NATO commits genocide via proxies
3. Literally anyone fights back
4. NATO labels them genocidal
5. NATO acts like it's the "good" party in some global good vs evil
Basically, NATO is engaged in global aggressive warfare through proxies, media, economics, etc
I'd give it 6-8 years before NATO pushes the world into total nuclear war.
3 hr
Reply
+7
+
−
Comment has been deleted
3 more replies

brickandfanal ²
Perhaps the Russian team should perform directly in front the building of the World Federation of International Music Competitions in Geneva . They should start with the famous Tchaikovsky 1812 Overture, (if you don't remember it's the the one with real cannons). But this time they should bring the gigantic Czar cannon with real shells. After 2 or 3 cannon shot into their office, the organization should understand it's much better to reinstal the Russian team in the competition.
4 hr
Reply
0
+
−
0rc_Slayer
brickandfanal ², 𝐏𝐞𝐫𝐡𝐚𝐩𝐬 𝐑𝐮𝐬𝐬𝐢𝐚𝐧𝐬 𝐞𝐯𝐞𝐫𝐲𝐰𝐡𝐞𝐫𝐞 𝐰𝐡𝐨 𝐟𝐚𝐢𝐥 𝐭𝐨 𝐝𝐞𝐧𝐨𝐮𝐧𝐜𝐞 𝐏𝐮𝐭𝐢𝐧 𝐬𝐡𝐨𝐮𝐥𝐝 𝐛𝐞 𝐬𝐡𝐨𝐭 𝐚𝐧𝐝 𝐤𝐢𝐥𝐥𝐞𝐝.
3 hr
1 more reply
Boxcar198080
If Russia wasn't prepared to accept the consequences of their actions, they never would have invaded a sovereign European nation in the first place…
4 hr
Reply
+3
+
−
Comment has been deleted
1 reply
0rc_Slayer
𝐆𝐨𝐨𝐝! 𝐆𝐞𝐭 𝐭𝐡𝐞 𝐟𝐮𝐜𝐤 𝐨𝐮𝐭 𝐲𝐨𝐮 𝐰𝐨𝐫𝐭𝐡𝐥𝐞𝐬𝐬 𝐩𝐢𝐞𝐜𝐞𝐬 𝐨𝐟 𝐬𝐡𝐢𝐭!
4 hr
Reply
0
+
−
digdoug
Laughing stock of the planet hold hands children
4 hr
Reply
−1
+
−

AL2023
I get why but I don't think it's right . That's my 2 pence.
4 hr
Reply
0
+
−
toaster
AL2023, Penalising only one side is never fair and Ukraine doesn't deserve to get away with what they have done since 2014 and even before since 'independence'.
4 hr
1 more reply
toaster
How stupid can people get in their virtue signalling bs? It is the same garbage as with the Olympics and other sports events. They are doing no one a favour, the least to themselves. Sport is sport and music is music.
4 hr
Reply
+3
+
−
Candel
The west is clearly a fail I ng system
4 hr
Reply
+10
+
−
Tintin59
Candel, Yes they are failing
3 hr
1 reply
Thinkhard
Earlier sports now music…. Still don't understand what has this to do with war… These should be above politics
4 hr
Reply
+7
+
−

Gennadiy M
Thinkhard, Thats obvious. Its racism and nazi ideology against anything that is Russian. And since the real war is between NATO — Russia, western countries are doing their bid.
4 hr
1 reply

Scirocco
All these international organizations were okay about Ukraine killing Russians over the last 8 years since the maidan. A new level on Russophobia?
4 hr
Reply
+8
+
−
toaster
Scirocco, It only shows how flagrantly self-important these people are. Rome didn't last forever, nor will the US-lead 'world order'. They know it and trying to put off the inevitable.
4 hr
1 reply
The post Major Russian music competition targeted over Ukraine appeared on BIDD.