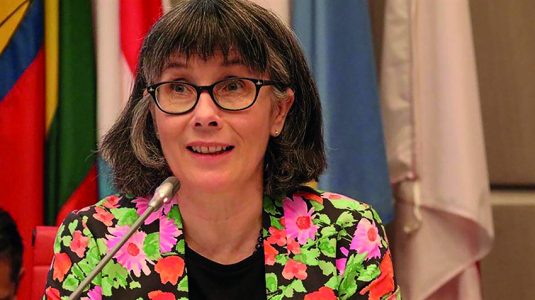 President of the Republic of Serbia Aleksandar Vučić received today the Letter of Credence of the newly appointed Ambassador of the United Kingdom of Great Britain and Northern Ireland Sian MacLeod and wished her welcome and successful post in Belgrade.
President Vučić expressed his hope that during the diplomatic post of Ambassador MacLeod the Serbian-British ties and cooperation will grow stronger. He said that we would particularly appreciate if the Prime Minister of Great Britain would visit Serbia, for the first time after 40 years.
Ambassador MacLeod said that she would be committed to the strengthening of the political dialogue at the highest level, and in particular of the economic cooperation between the two countries.
President Vučić iterated his commitment to the policy of peace and cooperation and expressed his gratitude to the United Kingdom for its support to the development of the Western Balkans through its participation in the Berlin process. The President also acknowledged Great Britain for its support to the accession of Serbia to the EU irrespective of its decision to leave the European Union and for the support in the continuation of the necessary reforms on our European path.
The two interlocutors agreed that the two countries have many opportunities for improvement of diverse forms of cooperation.
MacLeod graduated from the Royal Academy of Music with a BMus degree in 1983. She joined the Foreign and Commonwealth Office (FCO) in 1986 and served in Moscow 1988–92. After the collapse of the Soviet Union she served briefly as deputy head of mission in Vilnius, Lithuania, in 1992. She then returned to the FCO until she was posted to The Hague 1996–2000. She was sent back to Moscow 2004–07, first as political counsellor and then as minister and deputy head of mission. She was ambassador to the Czech Republic 2009–13 and was appointed to be head of the UK delegation to the OSCE in 2015 (with the rank of ambassador).
MacLeod was appointed OBE in 2002 "in recognition of services in support of operations in Afghanistan during the period 1st October 2001 to 31st March 2002". She is married to Richard Robinson, they have three children.