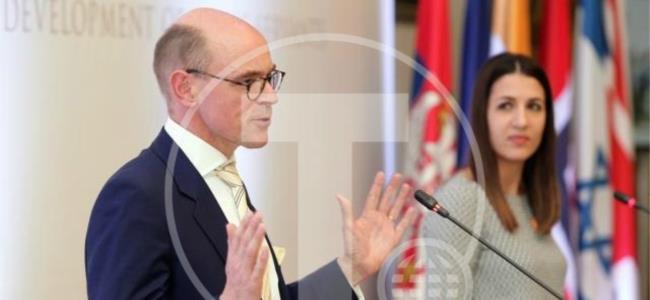 "Together, we pledge to lead by example and contribute to professional advancing of public servants and building the public sector capacities," the Declaration reads.
The signatories, including the Norwegian ambassador in Belgrade, Mr Arne Sannes Bjornstad, pledged to work together on developing a joint platform for continuous education and skill development of local and state government officials.
They also agreed to share information on opportunities for exchange programmes for public servants, foster and monitor implementation of internationally acquired expertise as well as develop liaisons and improve economic and cultural cooperation between Serbia, EU and partner countries.
Mr Bjornstad said that sometimes we learn not only by what we do right but also from mistakes. "Sometimes that is an easier way," the Ambassador said after signing the Declaration at the First Diplomatic Forum in Belgrade.
For years, Norway has been supporting the establishment of an efficient and professional public administration in Serbia through different projects. The most recent one was Delivery of Change, which enabled the Ministry of Public Administration and Local Self Government to change its organisation after conducting a thorough analysis. Furthermore, this experience provided tools for other public authorities to undertake such reforms.
According to Ms Jovana Vlaskalin from the Ministry, special focus within the project was on training employees. "Training contributed to a better understanding of changes, provided practical tools for delivery of change, and improved communication and organisational skills. The key to the success of this training was the participation of all employees, which, among other things contributed to the creation of vision and mission of the Ministry, and set out guidelines for a phased development plan of the institution," Vlaskalin explained.
Reforms and introduction of integrated new tools, normally new IT system, should go hand in hand. Norway supported the Ministry of Interior in introducing such system, which help achieve a more effective, cost efficient and transparent use of funds. Norway has also assisted the customs administration in setting up an IT system for better control and management.