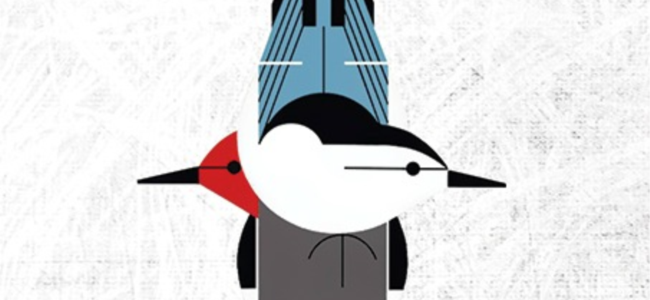 12.04.2016 //
Dereta publishing house is bringing us a tale of delicate beauty and deceptive simplicity by one of the greatest Norwegian writers of the 20th century — Tarjei Vesaas.

Did you know that there is a man who can reveal the secrets of nature? He knows the language of birds and is able to read the letters they write with their beak and feet. His name is Mattis and he lives in a small house near a lake with his sister Hege, who ekes out modest living knitting sweaters.
Norwegian writer Tarjei Vesaas is investigating the shade of darkness that lies at the reaches of the fresh and restless mind of this man in his late thirties, hopelessly "simple" to the village, a sad and wearying care to his lonely older sister. From time to time, she would encourage him to find work to ease their financial burdens. These demands bothered Mattis but a woodcock flying over the house was a sign that meant some special happiness.
One day, he finally set himself up as a ferryman and the only passenger he manages to bring across the lake is a lumberjack, Jørgen. Mattis isolated existence gets interrupted as Jørgen falls in love with Hege, leaving Mattis fearful that he will lose his sister. The careful translation from the Norwegian underscores Vesaas's rare sensitivity in recording Mattis's often insightful view of his world.
Childlike, hazily aware of the reality of death and loss in signs and portents, Mattis clumsily attempts to thwart fate, drowns with the cry of a woodcock off course.
Vesaas (1897 – 1970) is considered one of the most important Norwegian writers. In his rich literary work, one can find a wide array of masterfully painted characters, but no other has got so much care and love from the author as the protagonist of The Birds.
The Birds (1957) has been translated into many languages and even screened in Poland. In 2007, the Norwegian Festival of Literature included it in a best-of list of 25 Norwegian literary works. This novel has yet to be discovered by Serbian readers, while in the European countries it represents the canon of classical literature of the XX century.
The book is translated into Serbian by Ratka Krsmanović Isailović and published by Dereta publishing house.