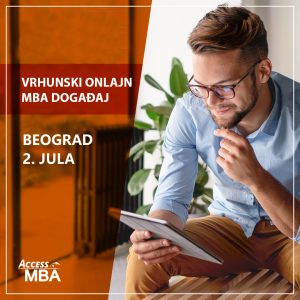 The Access MBA, a leading organizer of personalized business education events and a media solution provider, will connect professionals in Belgrade with reputable international business schools during an interactive one-on-one online meeting, the event's organizer, Advent Group, said today.
Given the preventive measures taken in many parts of the world due to the Covid-19 pandemic, the customized digital platform for organizing events Access MBA wants to welcome future business leaders on July 2, 2020, in a safe online environment https://www.accessmba.com / link / E88.
Continue reading On July 2, 2020, the opportunity for future managers to get acquainted with top MBA programs online at Diplomacy&Commerce.