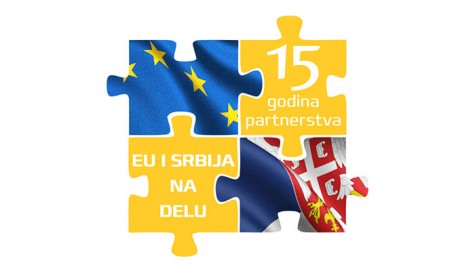 "Where I see EU in Serbia" is a photo contest aimed at all Serbian citizens, organised within campaign "Serbia and EU: 15 years of partnership" by EU Info Centre and EU Delegation to Serbia. Participants in the contest may take their photos by cameras or cell phones. Also, contestants may use editing tools to process their photos.
Contestants choose particular topic of their work, but the primary goal is to capture scenes in which they recognise the EU and its contribution to Serbia's everyday life in any given area – health, education, construction… Also, depicted in the photo may be any situation from everyday life promoting European values such as tolerance, diversity, human rights, environment, energy saving, freedom and democracy, etc.
Photos must not be offensive on any basis (race, religion, etc.) and should respect  the limits of good taste.
Prizes
First prize – video camera
Second prize – camera
Third prize – tablet
Apart from the best three, 20 additional photos, selected by the Jury, will be featured in the poster which will open the exhibit "Serbia and EU: 15 years of partnership" in Kalemegdan Fortress on the occasion of Europe Day, 9 May 2016.
Who can participate:
citizens of the Republic of Serbia over 16 years
amateur and professional photographers.
Deadlines
The contest is running from 1-30 April 2016.
How to submit photos
Contestants should submit their photos in an adequate photo format with the minimal resolution of 300 dpi. Every contestant should bear in mind the copyrights. Copyrights of each of the submitted photos will be transferred to organisers. Organisers (EU Delegation to Serbia and EU Info Centre) are allowed to use photos in exhibitions and/or publications.
Photos should be sent to [email protected] or posted on Twitter with hashtag #EUuSrbiji and @EUICBG or Instagram EUICBG with the same hashtag. Organisers will contact the awarded contestants via e-mail or their social networks accounts.
Jury
The Jury will be composed of one representative from EU Delegation to the Republic of Serbia, Serbian European Integration Office and EU Info Centre in Belgrade, each.
Why take part
By taking part in the contest "Where I see EU in Serbia," apart from having a chance to win a prize, contestants will also gain a completely new experience of researching their country in the process of transformation into a better society. Photo contest is part of the campaign "Serbia and EU: 15 years of partnership" marking 15th anniversary of EU assistance in Serbia. Since March 2001, the EU has donated more than EUR3 billion to Serbia. Grants have covered all segments of the society, from health, education and public administration reform, to environment and infrastructure (for more information, please visit the EU Delegation web-site www.europa.rs).
For more information on the contest, please contact us via email [email protected] or telephone 011 4045400.