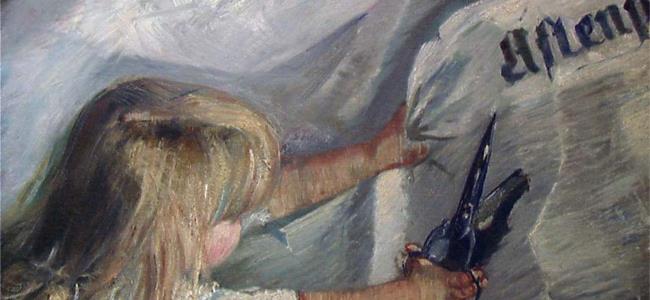 Oda Krog (11. jun 1860 – 19. oktobar 1935.) je bila norveška slikarka, kao i žena svog učitelja i kolege, Kristijana Kroga.
Biografija
Bila je druga ćerka javnog tužioca Kristijana Lasona i Aleksandre fon Munte af Morgenstierne. Njena baka po majci je bila ruska princeza. Odrasla je u liberalno-konzervativnoj porodici, zajedno sa osam sestara i dva brata. Njen brat Per Lason je postao poznat kompozitor, a njena sestra Karolina Boken Lason pevačica i spisateljica.
Godine 1881. se udala za biznismena Jorgen Engelharta (1852-1921) sa kojim je imala dvoje dece. Rastali su se 1883, a razveli 1888. Godine 1885. je postala studentkinja Erik Verenskiolda i Kristijana Kroga, za koga će se i udati u oktobru 1888. Dobili su ćerku Nanu i sina Pera, koji je takođe će bio poznat slikar.
Pariz
U Munkovoj gravuri "Kafeinteriør" (1893), Oda je okružena boemima i ljudima bliskim njima: Munk, Kristijan Krog, Jape Nilsen, Hans Jaeger, Gunar Heiberg i Jorgen Engelhart. Veruje se da je Oda bila u aferi sa svima njima osim Munka. U svojoj knjizi "Syk Kjærlihet" ("Obolela ljubav", 1893), Hans Jæger opisuje ljubavni trougao gde je bio jako zaljubljen u ženu koja je trebalo da se uda slikara. Smatra se da je to bila Oda u leto i jesen 1888. godine.
Berlin
Devedesetih godina prošlog veka se seli u Berlin. Tokom svađe sa Augustom Strindbergom, koji je bio rezigniran kara je Oda naštelovala njegovu gitaru pred gostima u na zabavi u Strindbergovom omiljenom baru "Zum Schwarzen Ferkel", branio je dramski pisac Gunar Heiberg. Strindberg je bio poznat po svojoj lošoj naravi loše i nekoliko sukoba sa drugima, bez nekog posebnog razloga.
Ponovo Pariz
Oda Krog i Heiberg su se ubrzo zavoleli da bi 1897. godine ona uzela svog sina Pera i preselila se u Pariz sa Heibergom. Njen muž je postao instruktor umetnosti na Akademiji Kolarosi u Parizu a Oda je ubrzo zatim dobila atelje u Monparnasu. Za kratko vreme se združila sa vodećim umetnicima u gradu, uključujući i Henri Matissa. Svoje radove je predstavila 1903. godine na Pariskom salonu, a godinu dana kasnije imala svoju prvu izložbu u salonu d'Automne, gde je bila aktivna do 1909. godine. Za to vreme je bila u vezi sa pesnikom i likovnim kritičarom Jape Nilsenom. Oda se rastala od njega i vratila svom mužu. Malo kasnije su se vratili u Oslo.
Dela
Sa malo formalnog obrazovanja u umetnosti, ona je ubrzo pokupila znanje iz umetničkog okruženja kome je pripadala. Njen debi je bio 1886. godine sa Ved Kristianiafjordenom (Japansk lykt), koji se nalazi u Nacionalnoj galeriji Norveške. Njeni rani radovi predstavljaju primer novog romantizma u slikarstvu, dok njeni kasniji radovi ostavljaju snažniji utisak. Oda Krog je poznata po svojim pejzažima, među njima Ved Kristianiafjord i Ved Engen. Ona je takođe radila portrete, među kojima su: Asta Hansten, Ivar Arosenius, Gunar Heiberg, Johan Dibvad i Kristijan Krog.
Oda je takođe bila centralna figura u anti-kulturnom pokretu Boemi Kristijanije tokom 1880ih i 1890ih. Njen javni imidž kao "bomeske princeze" je donekle zasenio nju kao kompetentnu slikarku.
Uprkos želji da postane spisateljica, vrlo malo toga je objavila tokom svog života.
Njen život je opisan u romanu Ketil Bjornstad "Oda!" (1983). Sahranjena je na nacionalnom groblju u Oslu.
Kolekciju Nacionalnog muzeja Norveške možete istražiti ovde.
Izvor: Wikipedia