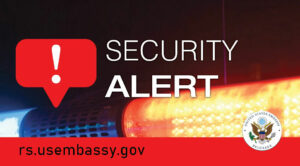 Security Alert – U. S. Embassy Belgrade, Serbia September 9, 2022
Location: Various locations within Belgrade
Event: From September 12 through September 18, 2022, EuroPride organizers have events planned at various locations in Belgrade. Belgrade Pride has taken place without major incident for the last 8 years, but as with any public celebration that draws large crowds, it is important for U.S. citizens to remain vigilant and take precautions.
Actions to Take:
Be aware of your surroundings.
Stay alert in locations frequented by tourists/Westerners.
Avoid counter-demonstrations.
Consider this detailed security advice from EuroPride: https://europride2022.com/tourist/safety
For U.S. Citizen Assistance:
· Embassy Belgrade, Serbia
+381 (11) 706-4000 (24 hours)
BelgradeACS@state.gov
· Department of State – Consular Affairs
888-407-4747 or 202-501-4444
· Enroll in Smart Traveler Enrollment Program (STEP) to receive Alerts.
· Follow us on Facebook and Twitter
The post Security Alert – U. S. Embassy Belgrade, Serbia September 9, 2022 appeared first on U.S. Embassy in Serbia.