Embassy Of The Arab Republic Of Egypt
H.E. Mr. Amr ALJOWAILY Ambassador Extraordinary and Plenipotentiary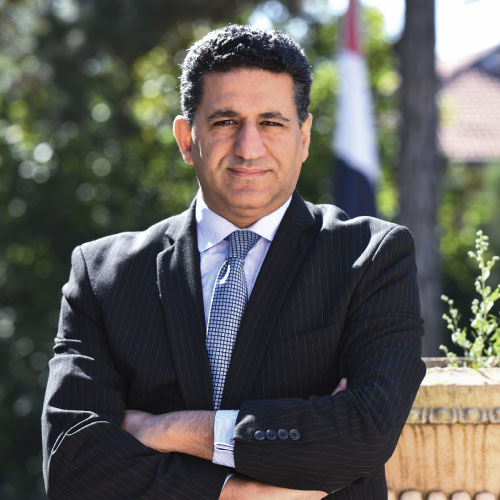 Amr Aljowaily is Egypt's Ambassador to Serbia, presenting copies of credentials on January 19th, 2018. He is also visiting faculty at UNITAR's Multilateral Diplomacy Program, adjunct faculty in international security at the School of Global Public Affairs of the American University in Cairo, and at Diplo (www.diplomacy.edu). He held leading positions in multilateral negotiations including: Rapporteur of the United Nations' Special Committee on Peacekeeping in 2015, Coordinator for Peacekeeping of the African Group Experts in NY in 2015, Coordinator for Disarmament of the Arab Group Experts in New York from 2011 to 2015, Vice-chair of the UN Disarmament Commission in 2013, Facilitator for the International Tracing Instrument for the Second Review Conference on the UN Program of Action on Small Arms and Light Weapons in 2012, Vice-chair of the General Assembly's First Committee (on disarmament and international security) in 2011, Chair of WTO's Committee on Information Technology Agreement in 2007, Chair of the Negotiating Group on Market Access the Global System of Trade Preferences in 2007, and twice Coordinator of the African Group to UNCTAD and the ITU (2003-2005).
Mr. Aljowaily's previous diplomatic postings are New York, Geneva and Washington, DC. At the Foreign Ministry, he served as Deputy Assistant Foreign Minister for United Nations Affairs, Egypt, Director of UN Affairs, member of the Cabinets of the Minister and First Undersecretary and the departments of multilateral political and economic issues. He was member of the Egyptian delegations to Summits and Ministerial Meetings of the WSIS, South Summit, the League of Arab States, African Union, as well as UNCTADXI and ITU's Plenipotentiary 2006. He was Board Member of the Institute for Diplomatic Studies (1994-1996). He was also Coordinator of International Relations at the Ministry of Communications and Information Technology (2001-2003).
He started his career in print and broadcast journalism, and in research centers. He published some of the earliest analytical works in Arabic on ICTs and International Relations, and continues to publish in the field of multilateral diplomacy, especially in issues related to international peace and security. His latest publication is an edited book titled "Serbia in Egyptian Eyes: Diplomatic Memories and Cultural Memoirs" due to be issued on January 17, 2018.
He holds a BA in Political Science and an MA in Middle East Studies from the American University in Cairo (AUC), a MSc in International Relations from the London School of Economics and Political Science (LSE), and a Post Graduate Diploma in Contemporary Diplomacy from the University of Malta. Mr. Aljowaily has participated in numerous executive training activities, including the select Missions Leaders Course of the UN Department of Peacekeeping Operations.